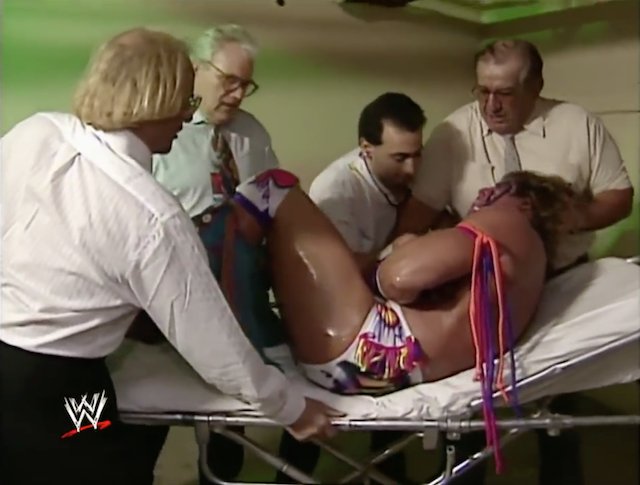 Kris & David discuss the week that was May 10-16, 1992. We are quickly joined by Steven Prazak to discuss his thoughts of Bill Watts joining WCW and his entire run there which was interesting because he was a "notorious" regular at the Center Stage shows. We then talk proper about the Watts hiring and Dave Meltzer's thoughts at the time about it which are highly interesting. We also talk about the Japanese scene featuring PWFG & RINGS running big shows then we talk about the scene in Mexico featuring the debut of AAA and how they changed the business forever there. We also talk about the upswing in Memphis with a great Eddie Gilbert/Jerry Lawler clip, we also talk about FMW coming to Los Angeles & Tijuana for a couple of wild shows before closing with WWF with the sex scandal looming large as well as steroids. This is a STACKED show so listen ASAP!!!!
Timestamps:
0:00:00 Steve Prazak on Bill Watts in WCW
0:22:04 WCW
1:53:06 Japan: AJPW, PWFG, RINGS, & Oriental Pro
2:08:49 Classic Commercial Break
2:13:24 Housekeeping & The Amazon Game
2:55:43 Latin America: AAA, EMLL, UWA, & WWC
3:26:41 Other USA: UWF, USWA, GWF, FMW/WWA, Portland, & Potpourri
5:06:44 WWF
To support the show and get access to exclusive rewards like special members-only monthly themed shows, go to our Patreon page at Patreon.com/BetweenTheSheets and become an ongoing Patron. Becoming a Between the Sheets Patron will also get you exclusive access to not only the monthly themed episode of Between the Sheets, but also access to our new mailbag segment, a Patron-only chat room on Slack, and anything else we do outside of the main shows!
You can also support the show by shopping with our Amazon referral link at TinyURL.com/BTSAmazon — Nothing extra comes out of your wallet, but Amazon gives us a kickback for referring you to them.
To subscribe, you can find us on iTunes, Google Play, and just about every other podcast app's directory, or you can also paste Feeds.FeedBurner.com/BTSheets into your favorite podcast app using whatever "add feed manually" option it has.
https://soundcloud.com/btspod/ep-95-may-10-16-1992-with-steve-prazak